(Please note that I am publishing this review here first, but will be copying elsewhere on the Interweb, so the review is not designed for folks who have been following the other thread.)
I recently received 2 sets of swords from St. George Armoury/Mark Vickers.
http://www.stgeorgearmoury.co.uk/index.html
The first set consists of identical blunt and sharp XIV Arming swords that have their hilts based on the Morosini XIV located in the Met. and the blade of an XIV located in the Royal Armouries at Leeds.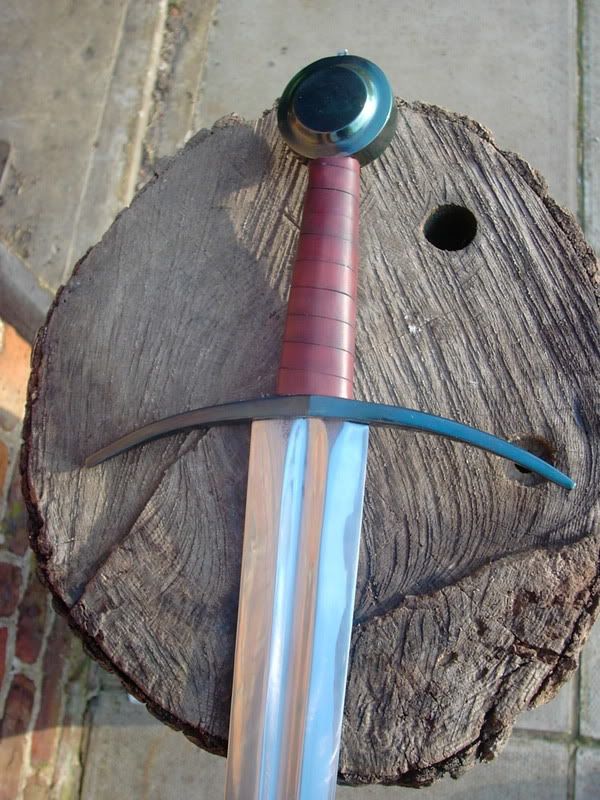 The stats on the XIVs:
31 1/4 inch blade
2 1/4 wide 1/4 thick at forte
balance 2 3/4
Approximately 3 Lb 5 oz
The XIV's are absolutley the finest balanced single handers I have ever used. When you hold them by the pommel with the blade pointing to the ground they feel heavy. However when you hold the grip and raise the tip, it seems like the extra weight vanishes completely. When swung, this has the effect of literally pulling the blade through whatever medium you are cutting, simply slicing through like a laser beam. Even cutting through the air is an absolute joy. While they pull themselves through the cut, they are also maneuverable and it's possible to start a cut and change direction, feint, etc and they respond extemely well. The blade is rigid enough to thrust and is extremely maneuverable, fast and accurate. The grind is an appleseed or clamshell grind and is well executed. The hilt is designed for a single hand, but has enough room to add the first 3 fingers of the offhand if necessary.
The fit and finish on these are extremely well done albeit purposely rustic. The rsutic elements include some slight carbon deposits left on the blades near the hilt, and some grind lines that are not geometrically perfect. However, these add to the charm of the sword and showcases that these are truly handmade using techniques similar to the period in which these were used. These visual elements add a feeling of warmth to the blade and fits their visual design as weapons of war that a man at arms or minor knight would use. No nonsense, practical and vicious. The hilts are finely blued and the wrap is extremely comfortable.
The second set is a sharp Durer style XVIIIb longsword and a less ornate blunt XVIIIb that is an almost exact match weight and balance and maneuverability wise as the sharp albeit with a different hilt.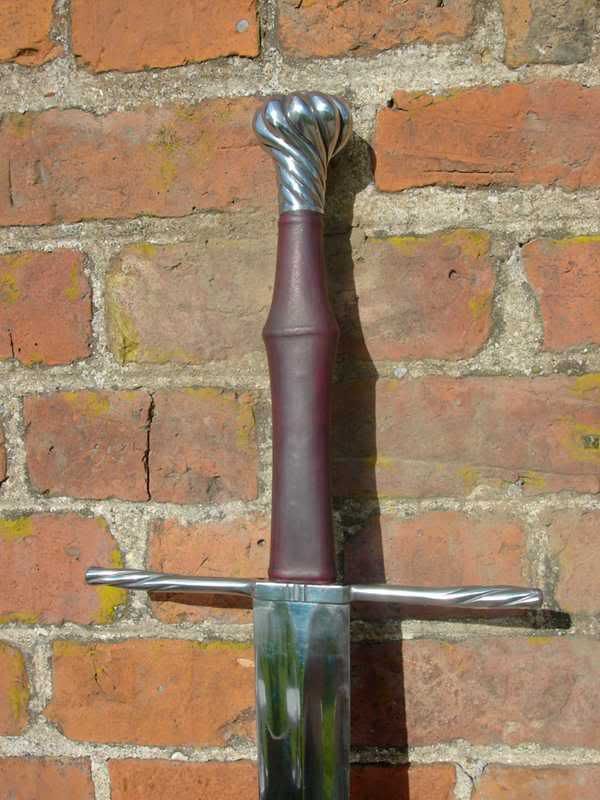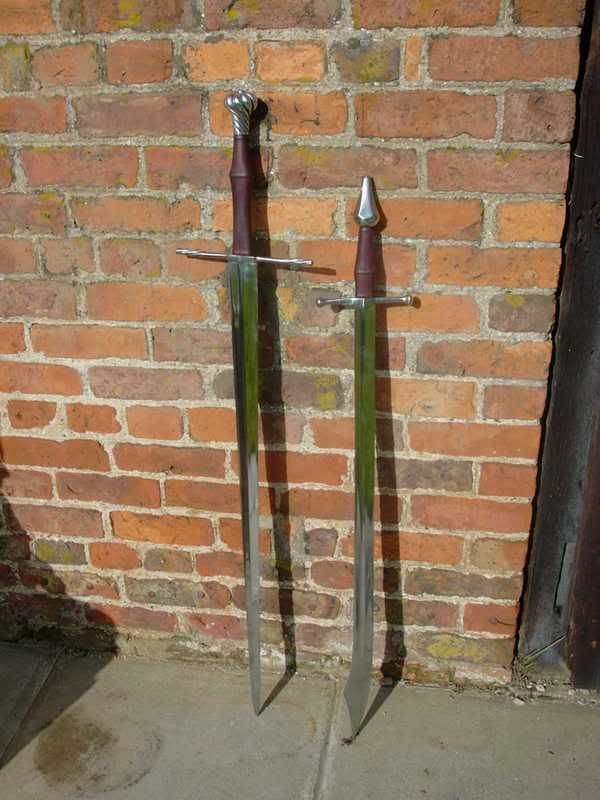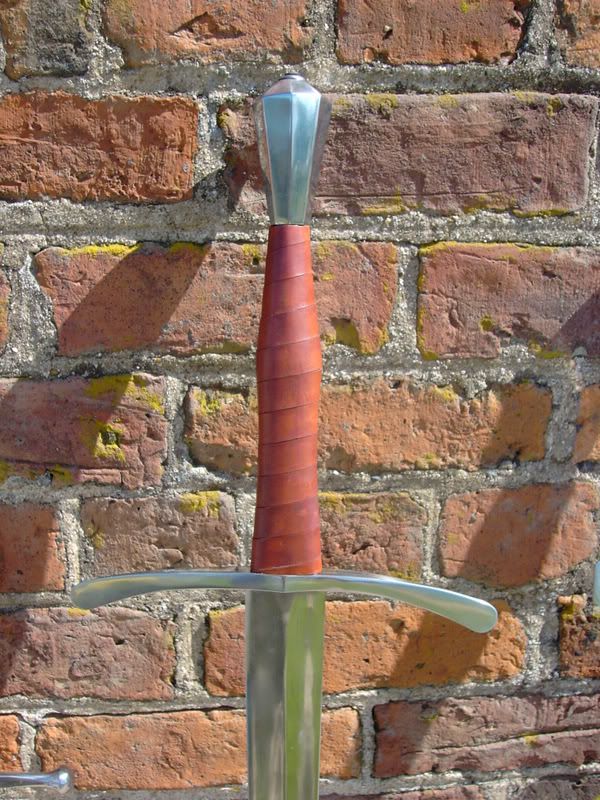 XVIIIB's Statistics
Overall length: ~47"
Length of blade: ~36"
COB: ~3.5"
COP: ~24"
Width of blade: 2" at the Forte
Approximately 3.3 lbs
These XVIIIB's are incredibly fast, maneuverable and deadly weapons. They transition well from guard to guard and slice through the air like a laserbeam. Designed for two hands, these blades are amazingly agile fast when wielded with a single hand. They exhibit the same balance features as the single handers in that they get lighter in the hand when swung and literally pull their way through the cut. Again, these are extraordinarily maneuvable and go exactly where you want them to.
The blade is a hollow ground diamond with raised center rib. This produces an extremely sharp blade that is also extremely rigid and perfect for thrusting. Fit and finish on these is superb albeit also with the rustic elements mentioned with the XIV's above. The hilt of the Durer is extemely beautiful with a writhen pommel and cross. These are solid and extremely well done. The writhen aspect does create an optical illusion that the blade slightly curves to one side in certain lighting, however I have confirmed with a plumb line and T Square that the blade is true and this illusion only exists in certain lighting.
Both sets of blades are extremely well executed and cut incredibly well. Tatami, pool noodles, water jugs, roasts and pork legs have all fallen victim to both sharps. They literlly slice through without any resistance and the blades are still as razor sharp as when I received them. I was particulaly amazed at how well they slice through bone (a bit of an abusive test) without any mark or dulling. Truly Mark Vickers has his heat treament perfected.
Price wise these blades were a steal and even with the weak dollar vs the british pound I was able to get four custom swords for almost the same cost as 2 top end production swords from a US maker.
I would very much like to thank Mark Vickers for making these superb swords for me, Matt Easton of Schola Gladiatoria for turning me on to Mark, and a special thank you to Mike Stillwell for helping me with the shipping of these swords from the UK to the US.
Here are some photos of the swords as they were being made by Mark: