Oh yes, modern and soft sae 1010 steel, who knows how thick and the helmet flyes which what energy?Is the flying helmet wasted energy similar to the wasted energy by human head and neck? In which position?
On the other side
http://www.shinkendo.com/kabuto.html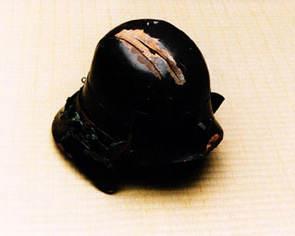 Ancient steel , work hardened, realistic thickness.
Skip the unsolvable problem of the possibility of doing that in battle and just look at how different both pieces of steel behave. They are both steel, both convex but a huge difference in every other aspect.