I realise this may sound a little weird, but does anyone know where Alfred Hutton is buried?.
The reason I ask is that if it was not for Hutton's book Cold Steel, which I came across by pure chance I would not have spent the last 5 years studying the wonderful world of Hema, and being the sentimental sort I thought it would be nice to make a little pilgrimage to Hutton's grave and leave a flower or two as a way of saying thanks. Overly sentimental I know, and probably weird to boot
Having done a little research I have yet to find any info on where Hutton was buried and was hoping someone here might know. All the info I have found on Hutton's life is listed below in a time line format. I have tried to get his army records but sadly very little was recorded or survived, only what is listed below and the fact that he was not included in the China medal list of 1860 and served in India.
1787 – Birth of Hutton's Father Henry William Hutton
1839 – Alfred Hutton born in Beverley Yorkshire
1841 – Living with his parents in Beverley
1846 – Alfred's older brother dies, buried in Beverly Cathedral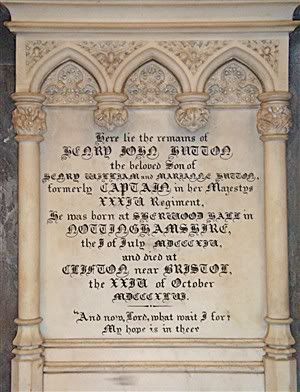 Here lies the remains of HENRY JOHN HUTTON,
The beloved Son of
HENRY WILLIAM and MARIANNE HUTTON
Formerly CAPTAIN in her Majestys 34 Regiment
He was born at SHERWOOD HALL in
NOTTINGHAMSHIRE
1 July 1814
and died at
Clifton near Bristol
the 24 October 1846
1848 – Alfreds Father Dies
1851 – Attending Blackheath Proprietary School (Lewisham, Kent)
1857 – Leaves Oxford University College Aged 18
1859 – (31st May) Purchases the rank of Cornet in the 79th Highlanders (I think it's the Highlanders)
1862 – (14th Jan) Promoted to lieutenant
1864 – Joins the 7th Hussars
1868 – Leaves the army as a Capt of the Kings Dragoon Guards
Here are two photos of Hutton, the first (in civilian clothing) is undated, the second in uniform was taken in Dublin 1871 (if this date is correct it contradicts 1868 as the date he left the army.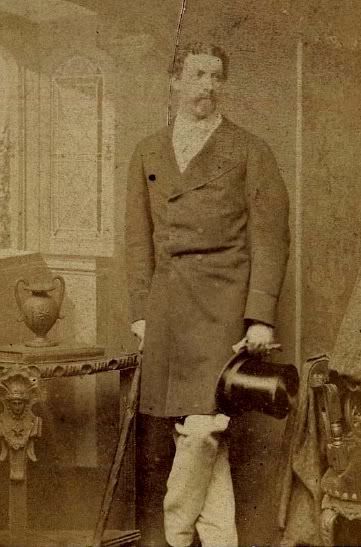 1868 – Hutton and others close a company called the "Rock Winning Company"
1879 - Chairman & Treasurer of CENTRAL LONDON THROAT AND EAR HOSPITAL, 330 and 332, Gray's-inn-road (London)
1891 - Staying at Grand Hotel Bath (Stall Street)
1901 - Staying at Grand Hotel Eastbourne
1910 - (18th Dec) Dies aged 71-72 in Westminster London (His address was 76 Jermyn St Middlesex)
Hutton's estate at the time of his death was worth £15586, a lot of money in 1910, his estate was divided up between an Evelyn Everard Brinkly and interestingly Colonel Cyril Matthey (the first guy to bring old George Silver out of the shadows of history.
Below is the only reference I can find to Hutton's death appearing in the newspapers of the time its from the "Northern Star" an Aussie paper of all things. I thought the major London papers of 1910 might have mentioned Hutton's death and maybe a line or two about his funeral. Sadly nothing has showed up.
Cheers